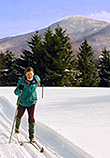 About the HNA
The Hazen's Notch Association is a non-profit, member-supported, conservation organization located in Montgomery, Vermont. From its office at the HNA Welcome Center on Vermont Route 58, the Hazen's Notch Road, the Association serves 40 communities in northern Vermont.

The HNA was founded in 1994 to promote and engage in:


- Conservation of Forest and Agricultural Lands and Recreational Trails
- Environmental Education Programs for Schools and the Public
- Recreational Trails for Hiking, Snowshoeing, and Cross-Country Skiing
- Stewardship of Natural and Historic Cultural Resources
- Research of the Environment

Use these links for more information about the Hazen's Notch Association.




"Wherever you live it is important to include plants, animals and special places into your sense of home. These "home places" should make you so comfortable that you feel you belong there. They should lift up your spirits and show you how you are connected with your environment. Find that place and discover its nature. Become a steward of your home place so that it will be there for future generations to enjoy and to learn from as well."


- Rolf Anderson

Photographs copyright Rolf Anderson. All Rights Reserved.
This page was last updated January 1, 2020.