Home
About HNA
Calendar of Events
Conservation Projects
Education Programs
Guestbook
Hiking Trails
Links
Membership Form
Natural History
Newsletter
Photo Gallery
Research Projects
Summer Camp
Support
Trail Conditions
Trail Map
Visitor Information
Winter Recreation
"Leave No Trace
If you carried it in, please carry it out."

Your membership in the Hazen's Notch Association makes it possible for us to maintain these trails for your use.
- Thank you !"
---


The Hazen's Notch Association is a non-profit conservation organization located in montgomery center, vermont.

The HNA provides environmental education programs for schools, conducts a Summer Camp for children, maintains a network of trails for Cross Country Skiing, Snowshoeing and Hiking on 2,500 acres of land and serves as a local land trust.

Your membership in the Hazen's Notch Association supports our work in conservation, environmental education, recreational trails, scientific research and stewardship of natural resources.

- Thank you !

Member of
Trout River Network
Hazen's Notch Association
Bringing People Together to Conserve Vermont's Natural Resources
_________________ Hiking __________________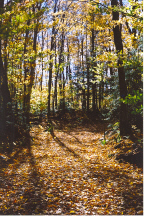 The Hazen's Notch Association maintains a network of 15 miles of trails and woods roads for hiking in Summer and Fall. These are part of a larger network of 40 miles of trails that are maintained in Winter for cross-country skiing and snowshoeing in the Hazen's Notch/Jay Peak area of northern Vermont.

The trails pass through a variety of interesting habitats that include meadows, forests, orchards, and beaver ponds. Trails range from restored woods roads that have gentle to moderate grades to narrow footpaths with steep climbs. There are numerous splendid views of the Jay Mountains in addition to the incredible beauty of the wildlfowers and wildlife that one sees along the trails. People often spend from 2 to 4 hours exploring our trails. Pack a lunch and water as you will find several picnic tables at popular destinations such as the Moosewood Ponds, the High Meadow, Little Rock Pond and Bear Paw Pond. Bring a camera and/or binoculars. Most of the photographs on this website were taken while walking, skiing and snowshoeing on the Hazen's Notch Association trails.

See below for information about Trail access & Parking, Suggested Hikes, Rules of Use, Travel Directions and a Locator Map.
Hikers: A 200-acre area on Burnt Mountain has been posted against trespassing due to ongoing forest management activities. Open trails: Beaver Ponds Trail to Moosewood Ponds and beyond to the Bear Paw Pond Area; High Meadow Trail to the back of the High Meadow; Dark Entry, Woodfern Loop, Coyote Connector and Sugar House trails. Closed trails: Above the back of the High Meadow, Notch Trail, Sunset Ridge + Window Rock trails.
---
Youth Hunting Weekend 2014
is Saturday + Sunday, November 3 + 4.
For your safety please limit walking
in the Hazen's Notch Area to town roads.

Be aware that hunters may be present
even on lands posted against hunting.

HNA trails will be open to hiking
Monday through Friday Nov 5 to Nov 9.

The regular hunting season
starts Saturday Nov 10 and lasts 16 days.
---
All Trails are Closed to Hiking
During Winter
And During Spring Mud Season
No Walking or Hiking
December 15, 2013 - May 5, 2014


Closed: High Meadow, Notch, Sunset Ridge + Window Rock trails all closed due to Forest management work.


All Other Trails Open May 5, 2014



For more information go to:
Vermont Mud Season Hiking


Three trailhead parking areas provide access points for hiking:
Welcome Center - P1
Bear Paw Pond Area - P2
High Ponds Farm - P3
The Welcome Center is a good place to begin if you would like to obtain information before starting out on your hike. In Winter the Welcome Center is staffed from 9-5, 7 days per week. In Summer, the Center is staffed on an occasional basis. The Welcome Center also serves as the Administrative Offices of the Hazen's Notch Association.
The Bear Paw Pond Area is where most of the HNA Summer Camp activities take place. This small 100-acre nature preserve is where you will find several Botany Trail loops. Maps and guides are available in the Trails Building located adjacent to the parking area.
The High Ponds Farm provides the greatest amount of hiking from its trailhead parking area. The High Ponds Farm is a privately owned nature preserve located in the Hazen's Notch Area of Montgomery, Vermont - 2.5 miles east of Montgomery Center. The High Ponds Farm is open to the public on a limited basis. Access is at the landowners' discretion. It is part of the Hazen's Notch Conservation Lands, a 500-acre, private conservation area. This area includes a native mixed species forest, a spruce plantation, old pastures, hayfields, orchards, and beaver ponds. Together, they represent excellent habitat for a variety of plant and animal species.
Directions to the High Ponds Farm: From Montgomery Center, follow the Hazen's Notch Road east for 2 miles. Look for the Rossier Road on the right. (Coming from Lowell, the Rossier Road is on the left, 0.75 mile past the Amidon Road.) Follow the Rossier Road 0.5 mile to the end. Park in the designated parking area on the left at right angles to the road. Be careful not to block any driveways or gates. Note that this parking area is privately owned. Trails and parking area are open from 8:00 AM to 6:00 PM. see trail map
---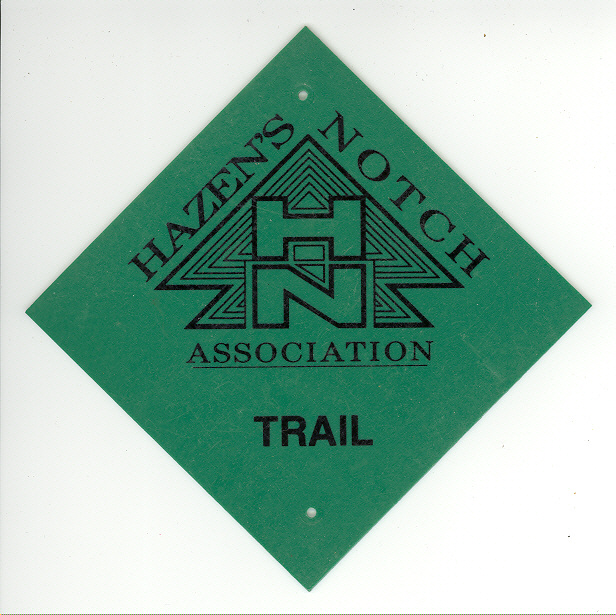 All Trails are Closed to Hiking
During Winter
And During Spring Mud Season
No Hiking or Walking
December 15 - May 18


Suggested Hikes
Beaver Ponds Trail

This trail leaves the parking area heading southerly passing beaver ponds on the left and on the right. At the jct. with the Window Rock Trail, the Beaver Ponds Trail continues westerly (Right) to the jct. with the High Meadow Trail at 0.25 miles. For best viewing of the ponds, continue on the trail (Right) a short distance until you reach a grassy clearing. A narrow path on the left leads to an overlook of several ponds. see trail map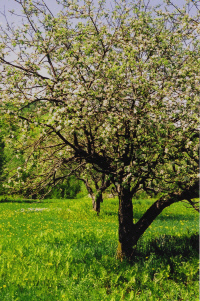 High Meadow Trail

This trail follows a restored woods road gently uphill from the intersection with the Beaver Ponds Trail (see above) to the High Meadow, site of the former Elizabeth and Rodney Dodge Farm (1876-1900). Planted with apple trees in 1953 by Kenneth Freer, this beautiful meadow has sweeping views of the Jay Mountains and Burnt Mountain. see trail map
---
HNA Conservation Land Management Information: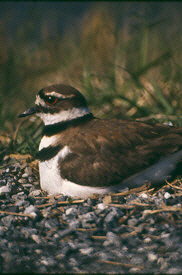 All of the trails, parking areas and lands described in the text and depicted on the maps on the pages of this website are on private land. Your ability to access these areas is at the discretion of the Hazen's Notch Association and the respective landowners. These private lands are being managed first and foremost as nature preserves. Conservation land management goals prioritize the protection of all natural resources including soils, water, animal and plant life. Recreation is limited to hiking in summer and fall and to skiing and snowshoeing in winter. The HNA will restrict recreation access if necessary to minimize threats to natural resources and other human impacts on these lands.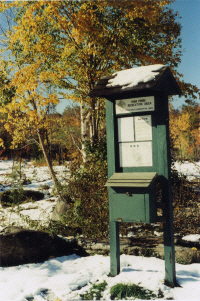 Please observe all trail and area use rules. They are posted at the trail access parking areas and on signs along the trails. Fires, camping, motorized vehicles, swimming and fishing are not allowed.
Dogs must be on a short leash at all times. In addition to minimizing conflicts between other people and their dogs, the leash rule is intended to prevent dogs from harassing wildlife which use the trails and adjoining areas as travel and feeding corridors as well as sites for raising their young.
Note that retractable "flexi-leads" are inadequate for controlling your dog. With 12 to 15 feet of lead, a dog can catch and kill a small animal before the owner even realizes that their dog is doing more than sniffing in the vegetation along the trails. Hermit thrush, for example, will regularly nest as few as 12" above the ground and within a few feet of the edge of a well-travelled trail. Fledgling grouse, as yet unable to fly more than 3 feet high or more than a distance of 12 feet, can be easy prey for a dog.

Hikers who do not observe the HNA dog leash rule will be asked to leave.
For a complete list of rules, please see Visitor Information

Important Information about Access to Trails


Please be aware that all HNA trails, parking areas, access roads, and all adjacent lands are private property. Access is at the discretion of the Hazen's Notch Association and the respective landowners. The trails and parking areas are open during daylight hours only. Do not drive past any gates even if left open.

Winter Trails Information

Trail users should be aware that while there is no charge to use the HNA trails in Summer and Fall, a trail/area use fee is charged in winter. Winter access to HNA trails is limited to the Welcome Center parking area. Other summer/fall parking areas are unplowed and closed to parking. In Winter walking on trails is not allowed and dogs are prohibited from all areas within the trail network. For complete information see: Winter Recreation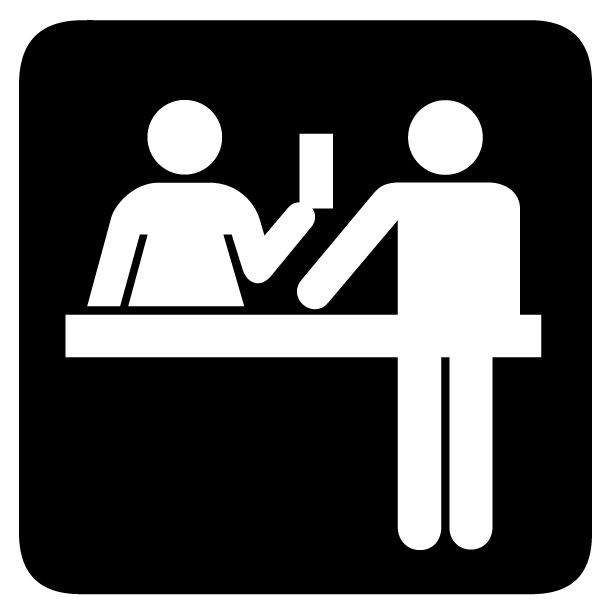 Group Visits: Please note that while the HNA Trails are open to the public at no charge in the summer, a fee is charged for groups. This includes school, home school, church or other community groups. This includes both non-profit and for-profit groups and whether your visit is self-directed or facilitated by HNA staff. There are many costs associated with the management of trails that are open to the public. Group use fees and membership contributions help the HNA to meet these expenses. Please contact the HNA to arrange your group visit. Thank you.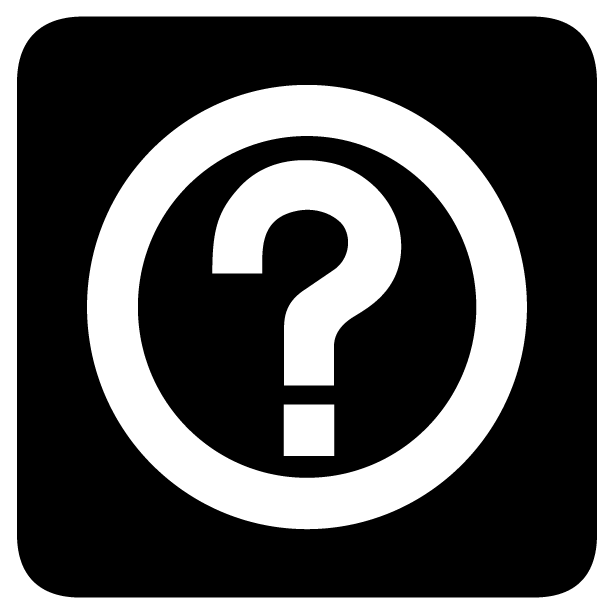 Visitor Information:
For Travel Directions, a Locator Map of trail access parking areas, & complete area use rules, see Visitor Information.

Weather Forecasts:
National Weather Service (Burlington, VT)
Eye on the Sky (St. Johnsbury, VT)

Vermont Nature News™: For information on the amphibians, birds, mammals, plants, & recent wildlife observations at the Hazen's Notch Association, see Vermont Nature News™.
---
The Hazenís Notch Association (HNA) is a non-profit, member-supported, conservation organization located in Montgomery, Vermont.

The HNA was founded in 1994 to promote and engage in:
- Conservation of Forest and Agricultural Lands;
- Environmental Education Programs;
- Recreational Trails for Hiking, Snowshoeing, and Cross-Country Skiing;
- Stewardship of Natural and Historic Resources;
- Environmental Research.
Show your support for the Hazen's Notch Association

Become a Member of the HNA. Membership benefits include: receiving the Hazen's Notch News and seasonal calendars of events; discounts on education programs summer camp and recreation outings. In supporting the HNA you will join over 400 individuals who contribute to the Association to support its activities.
Annual membership dues are $20/individual, $25/family, $10/student. Contributions in any amount are welcome. Membership
If you are interested in volunteering to maintain trails, lead outings or help in other ways, please contact the Association. Contact the HNA
Thank you !
This page was last updated on June 21, 2014

Copyright 2001-2014 Hazen's Notch Association for the Environment, Inc. All Rights Reserved.
Hazen's Notch Association l P.O. Box 478 l Montgomery Center VT 05471 l info@hazensnotch.org l 802.326.4799