For more information about
Green Mountain Club



Catamount Trail Association

The Catamount Trail (CT) passes through Hazen's Notch on its way from Lowell to Montgomery. This long-distance cross country ski trail is maintained by the Catamount Trail Association (CTA) of Burlington, Vermont. In places the CT coincides with a snowmobile trail maintained by the Vermont Association of Snow Traveler's (VAST). Here skiers should exercise caution. Snowmobile traffic is at its highest on weekends. Although Catamounts (or Mountain Lions) have been extirpated from Vermont for 100 years, a visitor to Hazen's Notch is likely to see sign of bear activity. Tracks, scat, and claw marks of Black Bears are evident throughout the area.


For more information about
Catamount Trail Association
Atlas Timberlands Partnership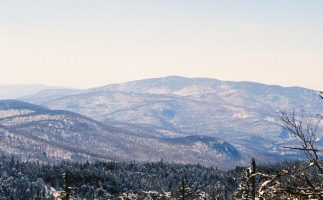 In December of 1997, The Nature Conservancy and the Vermont Land Trust completed the acquisition of over 26,000 acres of forest land in 16 Vermont towns from Wagner Woodlands. This acquisition, called the Atlas Timberlands Project, added many conserved acres to the Hazen's Notch area in Montgomery, Westfield and Lowell. ATP lands adjoin the Long Trail State Forest to the east near Haystack, Tillotson and Belvidere Mountains and the Hazen's Notch Conservation Lands to the west of Burnt Mountain.


For more information about
The Nature Conservancy


For more information about:
Vermont Land Trust



Hazen's Notch Association


The Hazen's Notch Association (HNA) is a non-profit, member supported, conservation organization located on the Hazen's Notch Road in Montgomery, Vermont. The HNA was founded in 1994 to promote and engage in conservation of agricultural and forest lands, environmental education, outdoor recreation, scientific research, and stewardship of natural resources.

The Hazen's Notch Association maintains a network of 30 miles of trails and woods roads on 2,000 acres of private conservation land in the town of Montgomery. These trails are used for cross country skiing and snowshoeing in Winter and hiking in Summer and Fall.

The Association acts as a local land trust for the Town of Montgomery.

The HNA serves as a center for environmental education. The Association conducts natural science field programs for school children from over 30 towns in northern Vermont. In addition the HNA operates a Summer Ecology Camp for children and offers education and recreation programs for adults and families throughout the year.

Wade Brook drains Hazen's Notch to the west and, along with Jay Brook, forms the headwaters of the Trout River, a tributary of the Missisquoi River. In 1998 the Hazen's Notch Association received a grant from the Vermont Agency of Natural Resources to study the 5000-acre Wade Brook watershed. The HNA is now undertaking the Wade Brook Watershed Project to protect this important water resource and its related habitats. The Wade Brook Watershed supports a great diversity of plant and animal species and provides clean water for thousands of Vermonters who live downstream of Hazen's Notch.


For more information about:
Hazen's Notch Association



Hazen's Notch Conservation Lands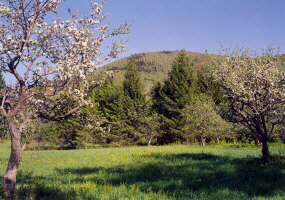 The Hazen's Notch Conservation Lands is a privately owned conservation area that lies to the west of the summit of Burnt Mountain. This 500-acre natural area consists of 2 preserves: the 100-acre Bear Paw Pond Area and the 400-acre High Ponds Farm.


The Bear Paw Pond Area lies to the south of Route 58, 1 mile east of Montgomery Center. This area is mostly wooded and has several trails and restored woods roads that allow pedestrian access. It is also the site of the Hazen's Notch Association's Summer Camp for children ages 6-15. A Botany Trail leaves the parking area that is located just off Route 58, the Hazen's Notch Road.

The High Ponds Farm (pictured above) is nestled at the base of Burnt Mountain on the Rossier Road, 2 miles east of Montgomery Center. A parking area and Visitor Center are located at the end of the road, 0.5 miles south of Route 58, the Hazen's Notch Road. This former hill farm, last farmed by the Dodge Family from 1900 - 1945, serves as a Stewardship Demonstration Site.

Some special natural features of these preserves include numerous beaver ponds, large rock outcrops, and a 125-tree apple orchard. Several streams flow through a mixed hardwood/softwood forest, old pasture, and meadow glade. This wonderful range of habitats support a great diversity of plant and animal species. Several miles of woods roads and trails provide excellent routes for exploring the natural features on these conservation areas.


For more information about

High Ponds Farm
and
Hazen's Notch Conservation Lands


---

Bibliography of Natural History
of Hazen's Notch, Vermont
by General Subject (for further reading)
Bailey Hazen Military Road:
www.rootsweb.com/~vermont/HistoryHazenMilitaryRoad.html
Geology:
Dann, Kevin. Traces on the Appalachians: a Natural History of Serpentine in eastern North America. 1988. Rutgers University Press.
Raymo, Chet and Maureen. Written in Stone: a Geological History of the Northeastern United States. 1989. The Globe Pequot Press.
Van Diver, Bradford. Roadside Geology of Vermont and New Hampshire. 1987. Mountain Press Publishing Company.
Natural History:
Johnson, Charles. The Nature of Vermont: Introduction and Guide to a New England Environment. 2nd ed. 1998. University Press of New England.
Jorgenson, Neil. A Guide to New England's Landscape. 1977. The Globe Pequot Press.
Thompson, Elizabeth and Eric Sorenson. Wetland, Woodland, Wildland: a Guide to the Natural Communities of Vermont. 2000. The Nature Conservancy and Vermont Department of Fish and Wildlife.

Native Americans:
Bourque, Bruce. Twelve Thousand Years: American Indians in Maine. 2001. University of Nebraska Press.
Foster, Michael and William Cowan, eds. Gordon Day's Essays: In Search of New England's Native Past. 1998. University of Massachusetts Press.
Russell, Howard. Indian New England Before the Mayflower. 1983. University Press of New England. "The single most important and comprehensive source on the Native Americans of New England prior to and during the contact period"

European Settlement:
Branthoover, W. R. and Sara Taylor. Montgomery Vermont: the History of a Town. 1991. Montgomery Historical Society.
Irland, Lloyd. Wildlands and Woodlots: the Story of New England's Forests. University Press of New England.

Plant and Bird Field Guides:
Newcomb, Lawrence. Newcomb's Wildflower Guide. 1977 and Editions. Little, Brown and Company.
Peterson, Roger Tory. Guides on Many Topics.
Sibley, David. National Audubon Society: The Sibley Guide to Birds. 2000. Alfred A. Knopf.
Slack, Nancy and Allison Bell. Field Guide to the New England Alpine Summits. 1995. Appalachian Mountain Club Books.


This page was written by Rolf Anderson & Deborah Benjamin
Photographs copyright Rolf Anderson
All Rights Reserved.
This page was last updated January 1, 2020