Hazen's Notch Association
Bringing People Together to Conserve Vermont's Natural Resources

Support

The HNA could not fulfill its mission without the generous support of so many people: landowners, members, volunteers, directors, community leaders and partner organizations. Please join us in thanking them. We hope that you will also consider supporting the work of the Hazen's Notch Association.
Board of Directors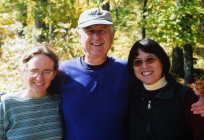 The Board of Directors provides important leadership in helping the Hazen's Notch Association fulfill its mission as a leading conservation, environmental education, and recreation organization in northern Vermont. We are grateful to the following individuals who have served on the HNA Board Directors with distinction:
Sharon Anderson, Rolf Anderson, Deborah Benjamin, Jo Ann Bennett, Elaine Bruckner, Wilbur H. Caney, M.D., Jerry Crouter, Tony Florio, Jane Halbeisen, David Hunter, Patricia Lambert, Anne McKay, Charles Meunier, Scott Mueller, Lafayette Page, Dee Pratt, James Pratt, David Ransom, Louise Ransom, Charlotte Rosshandler, Anne Marie Schadinger, Cynthia Scott, Susan Shea, Matthew Speroni, Eugenia Worman & Louise M. Wright.
Landowners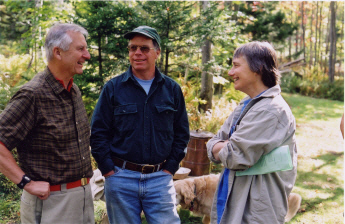 We are very grateful to our neighbors who generously allow the HNA trails to cross their lands for cross country skiing, snowshoeing and, in some cases, for hiking. The HNA is proud of its partnership with our cooperating landowners who share the beauty of their property with our visitors who join them in supporting the conservation goals of the HNA.
Members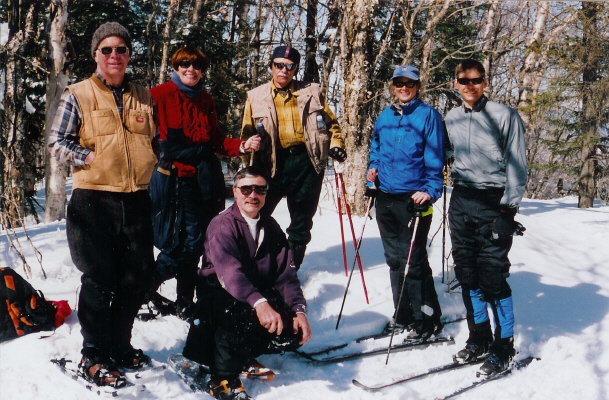 Thank you to all those generous members of the HNA who through their annual contributions provide critical financial support for HNA programs. Over 200 individuals, families, businesses and non-profit organizations made contributions in 2017. You can join your friends and neighbors in supporting the HNA by becoming a member.
Show your support for the Hazen's Notch Association by becoming a Member of the HNA. Membership benefits include: receiving the Hazenís Notch News and seasonal calendars of events; discounts on education programs and recreational outings. Annual dues are $20/individual, $25 family, $10 student. Contributions in any amount are welcome.
Land Protection Fund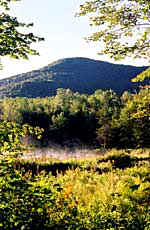 The Hazen's Notch Association is committed to the conservation and stewardship of our natural heritage. Working with state and regional conservation groups and private foundations, the HNA assists landowners in realizing their goals of preserving family lands. When private land is conserved, both the landowner and the public benefit from the protection of open space and its associated natural resources.
The HNA Board of Directors created the HNA Land Protection Fund to support the conservation of land parcels in Montgomery and the Hazen's Notch area that have important natural resource values in need of protection. Contributions to the HNA Land Protection Fund are dedicated to acquiring land or easements - protecting natural areas, wildlife habitats, scenic vistas and public access to recreational trails.
Campership Fund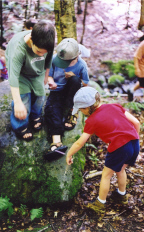 The HNA Summer Camp Programs are of enormous benefit to a great many children in our area. We had come to realize, however, that for some families the cost of Summer Camp is not affordable. In order to make this quality experience available to these children, the HNA established the HNA Campership Fund. Please consider making a contribution to the 2020 Campership Fund. Your gift will help make it possible for many children to attend camp who might otherwise not be able.
Trails Fund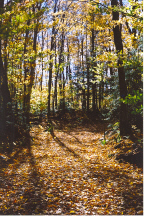 The HNA maintains a network of 30 miles of trails on 2,000 acres of private land for cross-country skiing, snowshoeing and hiking. Contributions to the HNA Trails Fund support the costs of maintaining trails, trail markers and signs, of expanding the trail network, and improving trail surfaces to prevent damage to soils, water quality and plants. We are proud of the network of trails that we have developed in partnership with our neighbors in Montgomery. Show your support for the HNA Trails by making a contribution to the Trails Fund. People who contribute to the Trails Fund at the following levels will receive a Winter Trail Pass as a "thank you": Family $50, Individual $30, Student $20.
Stewardship Fund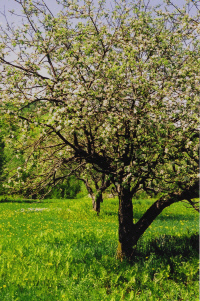 Over 30 people in the Hazen's Notch Area make their land available to the HNA for recreational trails and environmental education programs. Of these private lands, 1,500 contiguous acres are under forest management plans that have been prepared by a professional consulting forester. These plans provide direction to landowners in implementing their goals for enhancing timber production, forest health, species diversity, wildlife habitats, aesthetics and recreation.
The HNA Stewardship Fund was created to assist landowners who wish to enhance wildlife habitats and to protect biological diversity on their lands through activities that have wildlife as a focus and that do not generate any income for the landowner. Contributions to the Stewardship Fund support the costs of creating wildlife habitat assessments, management plans, and improvements to wildlife habitats. HNA staff naturalists and natural resource managers work closely with landowners and professional consulting foresters to implement resource management activities that are designed to support biological diversity, with an emphasis on non-commercial animal and plant species. Please consider making a contribution to the HNA Stewardship Fund.
Volunteers
The generosity of time and hard work by our volunteers is sincerely appreciated. Thank you to everyone who has helped with summer camp, school programs, trail maintenance, construction, stewardship and with staffing the welcome center. Please join us in thanking them as you consider becoming a volunteer yourself. If you would like to volunteer for the HNA, please contact us.
The HNA gratefully acknowledges the following people who volunteered for the HNA:
Jim Abbott, Chris Babbitt, Debbie Benjamin, Mark Bergstrom, Travis Bergstrom, Zach Brandau, Monroe Brook, Sharon Butler, Brett Butler, Quinn Butler, Ben Campbell, Patrick Cheffins, Dillon Devrow, Laurie & Jim Deciucies, Jessica Dillner, Suzanne Dollois, Carol & Patrick Farmer, Nick Frey, Paule Gingras, Whitney Hanson, Will Hanson, Heather Hassett, Art Holden, Karen Houghtaling, David Hunter, Marika Isom, Elizabeth Jennaway, Barbara Kaden, Andre Labier, Ned Lange, Annette & David Lobdell, Lynn Locher, Dominick Malaussena, Robin Massey, Adrina Mueller, Martin Nopola, Curtt Perry, Lisa Perry, Kyla Perry, Scott Perry, Sharon Perry, Melissa Poilly, Kirsten Pratt, Louise Ransom, David Ransom, Derek Saborowski, Lutz Saborowski, Brendan Thoms, David Thoms, Sandra Vaillancourt, Anneke van Zandt, Jane Vercelli, Lars Vercelli, Jane B. Williams, Colin Wood, Mark Youngstrom, John & Christina Youland, and Isaac Zucca.
Community Leaders
Countless individuals throughout northern Vermont have shown their support for the Hazen's Notch Association's programs through contributions to the HNA general fund, campership fund, stewardship fund and trails fund. Community leaders, school administrators and faculty, youth group and church leaders have all demonstrated their conviction that the HNA is meeting the needs of people across the area served by the HNA.
Partner Organizations
We value the support of state and federal agencies, other non-profit organizations, and private trusts and foundations that contribute to the HNA through cooperative efforts to help achieve mutual goals of conservation, education, trail maintenance and stewardship.
Our partners include the following agencies and organizations:
Association of Vermont Conservation Commissions
Caney Family Trust
Covered Bridges Garden Club
Gardener's Supply
Green Mountain Club
High Ponds Farm LLC
Intervale Foundation
Lamoille County Natural Resources Conservation District
Missisquoi River Basin Association
Montgomery Elementary School
Montgomery Historical Society
Montgomery Building Bright Futures
Montgomery Town Library
Nature Conservancy of Vermont
NOFA VT - Northeast Organic Farming Association of Vermont
Ruiter Valley Land Trust (Quebec)
Shelburne Farms
University of Vermont Extension Service
USDA Farm Services Agency
Vermont Department of Forests, Parks &Recreation
Vermont FEED
Vermont Folklife Center
Vermont Institute of Natural Science
Vermont Land Trust
Vermont Natural Resources Council
Vermont River Conservancy
Vermont Statewide Environmental Education Programs

Thank you!
This page was last updated on January 1, 2020