Weather

Links:

National Weather Service
Burlington, Vermont
Eye on the Sky
St. Johnsbury, Vermont
Climatology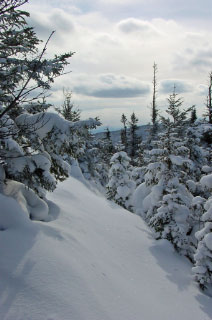 Special Thanks

The Hazen's Notch Association is very grateful to all of our cooperating landowners whose generosity allows over 40 miles of trails to remain open to the public on 2,500 acres of private land. Thank you !
Group Visits

Please note that while the HNA Trails are open to the public at no charge in the summer, a fee is charged for groups. This includes school, home school, church or other community groups. This includes both non-profit and for-profit groups and whether your visit is self-directed or facilitated by HNA staff.
There are many costs associated with the management of trails that are open to the public. Group use fees and membership contributions help the HNA office to meet these expenses. Please contact the HNA office to arrange your group visit. Thank you.
Hazen's Notch Association
The Hazen's Notch Association in Montgomery is at the gateway to the Northeast Kingdom of Vermont.

The HNA is a Member of the Trout River Network.


Upcoming
Events
Full Moon Snowsoe Tours

Meet: HNA Welcome Center at 7:00 p.m.
---
For Travel Directions,
a Locator Map,
& complete information for visiting Hazen's Notch, see
Visitor Information.
See the Winter Trail Map

---
The Hazen's Notch Association is a non-profit conservation organization located in Montgomery Center, Vermont.
The HNA provides environmental education programs for schools, conducts a summer camp for children, maintains a network of trails for cross country skiing, snowshoeing and hiking on 2,500 acres of land and serves as a local land trust.
Your membership in the Hazen's Notch Association supports our work in conservation, environmental education, recreational trails, scientific research and stewardship of natural resources.
- Thank you !